Sunglasses - Road Bike Shop
Shop
>
Accessories
>
Sunglasses
Oakley Team USA Flak Jacket XLJ Sunglasses
Representing your country trumps anything else you can do as an athlete, but Oakley has achieved that honor with the Team USA Flak Jacket XLJ Sunglasses, chosen as one of the official shades for the team going to London in 2012. Not only does it provide eye protection that helps win medals, but a...
Oakley TwoFace Sunglasses - Polarized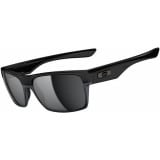 With relaxed style that draws on '60s surf culture, the Oakley Polarized TwoFace Sunglasses break new ground with a unique, multi-material frame construction. The combination of O Matter with an aluminum lower rim provides the durability you need for daily use while keeping weight to a minimum....
Oakley XS Five Sunglasses
It doesn't take a genius to figure out what the XS stands for in the Oakley XS Five Sunglasses--these shades offer big-time style and protection in a small package. These Oakleys are great for youths aged around 10 and up or for adults with extra-small faces. The pure Plutonite lenses offer...
Oakley YSC Commit SQ Signature Women's Sunglasses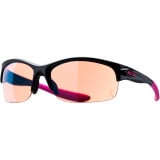 Oakley designed the Commit Sunglasses specifically for women who are serious about winning. The commit incorporates Oakley's exclusive Three-Point Fit and hydrophobic Unobtainium to ensure a comfortable, non-slip fit so you don't have to think about your sunglasses in the middle of the sixth...
Ryders Eyewear Gatto Sunglasses - Polarized - Women's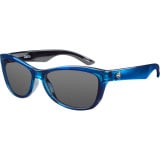 Retail Price:
$69.95
Our Price: $62.96
buy now
You can watch the cat fights from a distance while you're wearing the Ryders Eyewear Women's Polarized Gatto Sunglasses, and not ever take part in the nonsense. Polarized lenses reduce glare, letting the details come through clearly and without significant eye strain.
Ryders Eyewear Saber Polycarbonate Sunglasses
Retail Price:
$49.95
Our Price: $44.96
buy now
A saber, a curve bladed sword, is traditionally used for combat, which is exactly when you use the Ryders Saber Polycarbonate Sunglasses. You battle the the long and hilly road, yet your armor is merely some butt-hugging spandexat least your eyes are protected. Ryders lenses are distortion free...
Ryders Eyewear Strider Sunglasses - Polarized
Don't let glare make you lose your glide. Keep running or biking on the freshly rained-upon road without squinting and wondering where the heck you are going by wearing the Ryders Poarized Strider Sunglasses. Aggressive styling with a semi-rim design to optimize airflow is matched with Ryders'...
Ryders Eyewear Via Sunglasses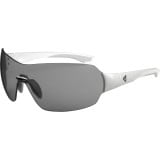 Rims are important. At least they are on cars and bikes; you won't care about sunglasses rims after you put on the Ryders Via Sunglasses. The rimless design provides excellent venting and an unobstructed field of vision as you rip. Ryders lenses are distortion-free and provide full protection...
Smith Approach Sunglasses
Confront any situation with confidence in the Smith Approach Sunglasses. Three sets of interchangeable lenses prepare you for any kind of lighting conditions, and swap out in seconds to adapt to changing light throughout the day. Hydrophilic nose and temple pads get tackier when exposed to...
Smith Hideout Polarchromic Sunglasses
Retail Price:
$218.95
Our Price: $109.47
buy now
Don't emerge from your lair without the Smith Hideout Polarchromic Sunglasses. The transition lenses darken as the light grows brighter, preserving your retinas for future heists and capers. Smith also polarized the lenses to cut out the glare from water during speedboat escapes. Plenty of...
<< Prev | 1 | 2 | 3 | 4 | 5 | 6 | 7 | 8 | 9 | 10 | Next >>