Sunglasses - Road Bike Shop
Shop
>
Accessories
>
Sunglasses
Oakley TDF Collection Radarlock Path Sunglasses
You've watched the climb at Tourmalet, felt the pain, and celebrated the glory; now get a taste of it in the Oakley TDF Collection Radarlock Path Sunglasses. This Tour de France collection puts the performance of Oakley's Switchlock interchangeable lens system, stress-resistant O Matter frame,...
Oakley TDF Collection Radarlock XL Straight Sunglasses
Raise your glass (of Champagne, naturally) and toast the 100th anniversary of the greatest bike race in the world while you wear the Oakley Tour De France Collection Radarlock XL Straight Sunglasses. The classic Radarlock XL design gets a patriotic Tricolor treatment of its sporty frame and the...
Oakley Team USA Flak Jacket XLJ Sunglasses
Representing your country trumps anything else you can do as an athlete, but Oakley has achieved that honor with the Team USA Flak Jacket XLJ Sunglasses, chosen as one of the official shades for the team going to London in 2012. Not only does it provide eye protection that helps win medals, but a...
Oakley Titanium Crosshair Polarized Sunglasses
Titanium is an essential part of your ensemble as a bullet-proof vigilante, which is why the Oakley Polarized Titanium Crosshair Sunglasses are a must-have before you go out fighting crime. When you aren't shedding bullets like raindrops or unleashing your laser gaze from behind polarized lenses,...
Oakley Twenty Sunglasses
The Twenty Sunglasses are the latest evolution of a classic Oakley shape. Designed to stay in place and deliver precision optics even during vigorous activity, the Twenty features Oakley's patented Unobtanium material to ensure a slip-free fit no matter how hard you play.
Oakley TwoFace Sunglasses
Whether you're scouting a new surf spot or simply surfing the sidewalk, turn to the Oakley TwoFace Sunglasses for a clear vision and a classic look. The durable yet featherlight frames use a combination of O Matter with an aluminum lower rim-- a first for Oakley. Plus, the impact-resistant...
Oakley TwoFace Sunglasses - Polarized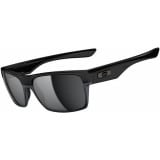 With relaxed style that draws on '60s surf culture, the Oakley Polarized TwoFace Sunglasses break new ground with a unique, multi-material frame construction. The combination of O Matter with an aluminum lower rim provides the durability you need for daily use while keeping weight to a minimum....
Oakley YSC Commit SQ Signature Women's Sunglasses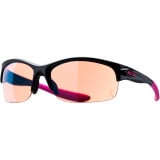 Oakley designed the Commit Sunglasses specifically for women who are serious about winning. The commit incorporates Oakley's exclusive Three-Point Fit and hydrophobic Unobtainium to ensure a comfortable, non-slip fit so you don't have to think about your sunglasses in the middle of the sixth...
Revo Headway Sunglasses - Polarized
With their full-wrap frames and high-grade Crystal glass lenses, the Revo Headway Polarized Sunglasses are an ideal choice for water sports and outdoor activities. The High Contrast Polarization eliminates glare when you're chasing trophy sailfish in the Sea of Cortez while the flush-mounted...
Ryders Eyewear Akira Sunglasses - Polarized - Women's
Retail Price:
$79.95
Our Price: $71.96
buy now
The Ryders Eyewear Women's Polarized Akira Sunglasses won't help you shake your hips, but they will protect your eyes from damaging solar rays. Polarized polycarbonate lenses block 100% of UVA, UVB and UVC rays, as well as blue light up to 400mm, so you can keep looking good for years to come.
<< Prev | Back | 11 | 12 | 13 | 14 | 15 | 16 | 17 | 18 | More | Next >>